A website or a blog can be a great source of income if you work hard and diligently.
There are so many ways to make some good earnings from a website, but none of them can compete with Google Adsense. Adsense is one of the most successful online businesses. Through Adsense, you can earn money from Google at home even without investment.
In this post, we will talk about how to apply for Google Adsense,
how to get your Adsense Account quickly approved by Google and
how to make money with Google Adsense through your website or blog.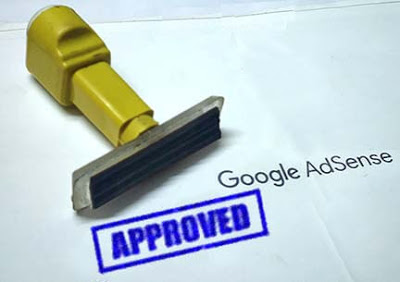 How to get Adsense account approved quickly
Let's see some simple guides and step to setup Google Adsense account and earn through your website using Google Adsense.
Google Adsense is an adverti
sing program that is owned and operated by Google. It allows the website publishers (or basically the owner of a site) to display ads targeted and relevant to the content of there site and their audience. The ads are basically shown as automatic text, image, video etc. The publisher has to insert some HTML code (Ad code) into his site to show the ads.
The
ad codes are provided by Google.
But before receiving the ad code from Google to monetize his site, a publisher needs to apply for an Adsense publisher account.
After getting approval from Google, he will be able to get ad code from Google.
How does a publisher earn through ads?
A
fter entering the Adsense code into a site, that is provided by Google, the site will start showing ads.
When a visitor visits that site and clicks on an advertisement for his interest, then an estimated amount is paid to the publisher by Google for displaying the ads on his site.
[Related Post]
How to get your Adsense account approved fast:
As I said earlier, Google Adsense is one of the best ways to make money through your site. BUT… But getting approval from Google for monetizing your website or blog via Google Adsense is not that easy. Every day, hundreds of site owners apply for Google Adsense, and most applications are rejected by Google for various reasons. Only a few achieve their goals.
However, there are no ways to get approved an Adsense Account instantly. Google needs some time to process your application. Also, there is no guarantee that your application will be approved or not. However, before applying for Google Adsense, you have set up your site so that Google does not reject your application.

How to set up your site before applying Google Adsense:
Create a website or Blog: First of all, Google requires a website that has numbers of original and meaningful quality content that is written to assist the site visitor.

Write sufficient contents: Write and publish some useful post. Publish at least Fifteen or more well-written and informative posts related to the topic of your site. And ensure that there are at least 500 to 1000 words or more in a single post.

Add Important Pages: Your blog or your website must have a page that contains a well and clear Privacy Policy statement. Here you can see what Google wants you to include in your site's privacy policy. You can create and generate a privacy policy online free for your site here.

You must also specify the Terms & Conditions or Terms of Service to use your website or blog. Generate your site's Terms and Conditions here for free.

It's better to have an "About Us" and "Contact Us" Page on your website.

Place your site's Privacy Policy, Terms & Conditions, About Us and Contact Us links on the header or footer of the site so that visitors can easily notice those links.



---
[Recomended for you]
---
Design: Make your site design neat and simple. Don't make your site more colorful and do not use too much CSS effects on your site and avoid adding any unwanted Widgets.
Your site visitors and as well as Google only likes quality contents.
Site Content: After applying for Adsense, Google will review and process your application within 48 hours. The Google bot or spider will crawl your site to
see what your content is all about
and if your site contains any copyright materials or any other
objectionable content. If they found any copied content,
copyright
images, videos, graphics, hate speech, hacking or cracking materials, pornographic materials, etc., then your application will be rejected.
Be Original: The content of the site should not be copied from any other source on the Internet or from any other source.
Any image, graphics or video used on the site should be copyright-free.
Custom Domain (TLD): If you've created your site using Google Blogger or any other free blogging platform, adding a Top Level Domain (TLD) to your blog or website is another most important task to do before applying for Adsense. Because, nowadays, Google doesn't like to approve websites for Adsense having a subdomain like Blogspot.com or any other such type subdomains. (Read: Google Domains- best domain registrar for Blogger blog)

Custom email: It is a very good idea to apply for Adsense using a custom email address (for ex: [email protected]) instead of a mail created on Gmail or other email services.
Also, using a custom domain address or a custom e-mail ID makes your site more trustworthy and it improves your site's page rank.


Domain Age: As per Adsense requirement, in some countries, including India and China, a domain must be 6 months old to be approved for an AdSense account. However, it has been seen that even though a domain is less than six months old, it is still able to get an AdSense account.

Applicant's Age: One more thing is that you must be 18 years and above to apply for an AdSense account.

These are some simple steps and guidelines to follow by a blogger or a website owner before applying for Google Adsense. After following these rules, your site will definitely be approved by Google for an AdSense account. But, most importantly, make sure that your site complies with Adsense program policies before submitting your application


[Related Post]

My personal experiences: As I have already written in one of my earlier post that I don't have any professional knowledge about blogging or web designing. There was a time when I did not know anything about Adsense. But, I always wanted to do something on the web. I wanted to make my own website. Therefore I started a site on Blogger almost three years ago. I wrote a few posts and applied for AdSense and my AdSense application got rejected immediately as my posts were basically related to downloading free ebooks, mp3 etc. and reading computer tips and I wrote those posts using different languages like my regional language and English. And then I closed and removed my site after one year. But, I had a dream that one day I will get my Adsense account approved by Google. So I started my another new site on Blogger about some free software. After writing about 30 posts, I again applied for Adsense and they again rejected my application. Then I purchased a domain from Google Domains and integrated it on Blogger and 1 month after purchasing the domain, I re-applied for Adsense through a custom mail id. Due to insufficient content and for having copyrighted content, they again rejected my application.

Then I followed the steps I have already mentioned above. Modified the blog theme, removed the copyrighted images and unwanted widgets, re-arranged the posts and reapply after 10 days of the second rejection. And after two unsuccessful attempts, finally, my Adsense application got approved by Google.

It was like a surprise to me. I dreamed of an Adsense account but I never thought that I could do it. Even I do not have much knowledge of the English language. You might have seen many grammatical mistakes on my blog. But still, I am trying to do what I love to do. I just want to say that, you should not give up hope and try your best. One day you will definitely succeed.

After following the steps mentioned above to set up an Adsense account, you will definitely get your Adsense Account approved quickly by Google. If Google rejects your application, do not be disappointed. Just sit back and find the mistakes and try to solve them and try again. Good Luck.