Choosing the appropriate domain name registrar for your new business is the key part of your success. If you choose the wrong one, then it can be a hassle to switch later on easily. That's why it's extremely important that you choose the best domain registrar from the beginning.
Are you having trouble choosing the right and the best domain name registrar for your website or blog? Are you looking for a cheap domain name provider that offers more features at lower costs? Well, there are hundreds of domain name registrar that claims to provide different features at the different price. Then whom should you go?  Some domain registrars claim to register domain names at just 1 or 2 dollars per year. On the other hand, if some provider offers free domain name registration, others are offering free hosting. How nice… Are these facts really true?
Actually, there are some points you should be aware that no service is perfect in this world, nothing in this world is free and nobody can give you more than usual. But, you can choose the right one for you by following certain rules. 
Choose The Best Domain Name Registrar: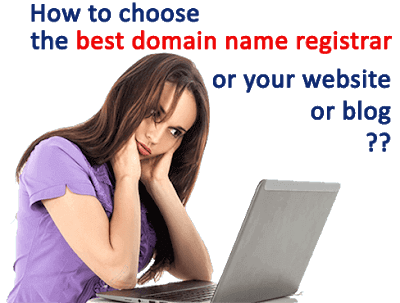 Therefore, if you want to find the right registrar to register your domain name, then you have to pay attention to some factors.
Price:
Price is one of the important factors to see carefully before registering your domain. Some registrars offer domain registration and hosting at very cheap prices. But, you need to verify what features you will get from the registrar at this price and for how long will you get it, and how much they will charge to renew your domain, as peoples are often created by this type of ad.
Some companies claim that they will register the domain name for only 1 or 2 dollars. For example, Godaddy provides .com domain registration only at $1.99 a year. Wow… that's pretty cool. Yeah, but there are some conditions too. The first condition is that you have to register your domain for at least two years. The registration cost for the first year is $1.99 and $15 for the second year and the renewal fees are also $15 per year. Secondly, you have to pay $2.95 per year for Email Forwarding and $7.00 per year for WhoIs Protection (optional).
Therefore the total registration cost from the second year is $24.94. Go, Daddy go. Whereas Google Domains provides.COM domain registration only at $12 per year including Privacy protection and the renewal cost is also the same. 
This is just an example. Note that GoDaddy is one of the oldest and most trusted domain registrars with more than 13 million customers. Therefore read the terms and conditions of the domain registration provider carefully before register your domain. Some registrars also charge for domain name transfer. 
Simple Domain Management tools
:
Domain management dashboard or control panel should be simple so that you can easily manage your domain. Before registering, ask the registration provider if the user can directly access the domain management tool or the client area, because some registrars do not allow you to directly manage your domain.
Don't go after ads:
Don't go after the tempting commercial ads. Sometimes, it shows something else and the registrar does something else. Before proceeding, you can find out about the service on the Internet, you can ask experts, read reviews, and most importantly, see their terms and conditions.
Terms and Conditions:
We all know the length of the T & C pages of any service provider. These are some rules and regulations that we must follow to use their services. But how many people are there that read those rules fully and carefully? Actually, those rules and regulations are so lengthy that they are difficult to read carefully. But it is most important that you read those rules carefully before using that service and if you do not agree with those rules, you should not use that service.
Read user reviews:
User reviews are great ways to determine if the service is trustworthy or not. The user feedback defines the pros and the cons of any service. If most people give positive reviews or recommend any service, that service will be good.
Domain Privacy and Protection:
Domain privacy protection a service offered by the registrar to protect your personal information such as your name, phone number, email ID, etc. that are related to your domain. It also protects your domain from hijackers, stalkers, etc.
My personal experiences
:
Here I would like to share some of my experiences. First of all, I don't have any professional knowledge of web designing or blogging. Earlier I did not even know anything about domain registration. Once I had created a blog through Google Blogger. After that, I was looking for a cheap and easy domain registrar. After a few searches, I found a registrar who promised to provide everything with customer support in the regional language. I immediately registered my domain name with that registrar. After that, it was a terrible experience. 
There were no domain management tools (Cpanel) available for customers. That means you cannot manage your domain your self such as redirecting URL, email forwarding, change or edit records, etc directly. You need to email their support team to tell your issue. After that, they will ask you briefly about your problem. Write your answer and they will try to fix it. Sometimes they are able to fix it, and sometimes it does not happen. Apart from this, there were no privacy protection features available. After all, I got my price for my mistakes.
Therefore, don't do the mistakes as I did. Choose the best domain registrar for your domain or website address. Register your domain name and keep it safe from fraud. After all, it is your online identity.