This is an article about creating a free website or blog on the Blogger platform using the Blogspot subdomain name. There are many people here who have lots of talent and knowledge on different subjects and many of them want to spread their ability and knowledge in this world through the internet and want to leave a mark. If you one of them, you can also show your work to all the people around the world. So, who has prevented you from doing so?
The first thing that you need to step into the world of the internet is a website or a blog. Through which you can show your talents through writing or other ways. But, there are some basic steps and things that you need to know before start your works on the internet. Here in this article, I will try to show you the basic steps to create a  free website using the Blogspot domain name on Blogger and how to earn some good money using Google Adsense through your website.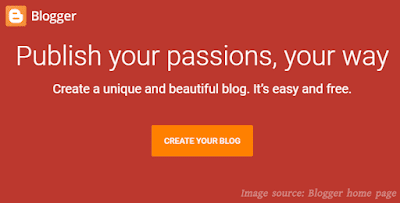 Create free website using Blogger

Blogger is a content writing and publishing platform owned by Google. Blogger offers you create a free domain name using the Blogspot subdomain. The Blogger free domain looks like this: "example-name.blogspot.com". Where the "example-name" is the name of your website and the "blogspot.com" the subdomain. The Blogspot domain is completely free for everyone and hopefully, it will stay forever. The Blogspot domains are hosts by Google for free and Google offers you create 100 free Blogspot.com domain names using one Gmail account.
Blogger is the simplest blogging platform to start your blogging carrier or to make a website for free. Anyone with basic knowledge of computing and the internet can start a Blogspot blog easily using Blogger. Also, there are lots of tutorials available on YouTube and other sites. Also, you can easily modify the look and layout of your simple Blogspot sites like an eye-catching website using many third-party plugins and script. Additionally, later you can add a Top Level Domain (TDL) to your Blogspot domain to make it more professional.

Here are some simple steps to get started with Blogger:
1. Create a Google Account: First of all, you need a smartphone or a PC and a  Gmail account. If you still have not a Google account or Gmail ID, then you can create one here. Also, with a Google account, you can do a lot more.
2. Log in to Blogger.com: Now, open your internet browser and go to Blogger home page using www.blogger.com and sign in to blogger using your Gmail address and password. If you are signed in to any Google service, such as Gmail, the same web browser, then you may not need to sign in again for Blogger.

Blogger Sign-in Form

3. setup your profile:
After signing in to blogger, you need to set up your blogger profile. First of all, you have to write your display name for the blogger profile, which will be displayed to your blog or website visitors and then click on Continue to Blogger option.

Enter your Blogger profile name here
4. Create a new blog:
After continuing to blogger, you will ask to create a new blog on Blogger to start posting. Now you have to click on the Create a new blog option to create your blog name and address to start your blogging journey.

Create a new blog window
5. Choose your blog/website title and URL:
A new window will appear after clicking on Create New Blog. Now you need to enter the name of your blog or website in the first box and the domain URL or address in the text box. You can use any name for your blog but you can not use a domain URL or address that already registered on blogger or used by another user. Therefore,  Sometimes it is very hard to get the desired domain name. If you are unable to register your desired domain URL or address as because of that blog address is not available, you can add or change a few characters of the URL or address or you need to try another one.
Please note that the Blogger domain service uses the blogspot.com sub-domain for your site. After creating your domain URL or address on Blogger, your domain address will look like this: "yourdomainURL.blogspot.com". A website or blog address is also known as URL, URL the abbreviation of Uniform Resource Locator also known as blog/website address.
After entering the domain name, you have to choose a theme for your blog/website from the list below the domain address. You can choose any themes like Contempo, Soho, Simple, Dynamic Views, etc. You can choose any theme as you can easily change it later. 
After that, click on Create Blog.
Enter blog title & domain name
Find and connect a domain: 
Before starting your blog, you will see a window displaying "find a domain name for your blog and connect it instantly". Here you can buy a top-level custom domain from Google Domains. A top-level custom domain address looks like this: www.example.com. You can simply close this window because you can buy and add a custom domain at any time. Note that the Google Domains are the best choice for Blogger to use as a Blogger custom domain.
Let's get started on Blogger: Now your website is almost ready to publish a post. This is how your Blogger dashboard or also called the Google blogger user account homepage. (See the below image). This is the area where you can do everything as a blogger or publisher. 
Blogger dashboard area
Features of Blogger Dashboard:

There are different options and features on this dashboard. You can see them in the image below.
You can see the name of your site just below the Blogger icon as shown in the picture. If you have multiple sites, then you can go to another site by clicking on the small arrow icon next to the name of the site.
To create and publish a post, you have to click on the "New Post" button.
To view your website, just click on the "View Blog" option.
By clicking on "Stats" you can see how much traffic has come to your website every day or weekly.
"Comments": Whenever a comment is posted by any visitor, you can see and manage the comment here.
In the "Earning" tab you can apply for an Adsense Account.
If you want to create a page like your site's terms and conditions of the privacy policy, just click on the "Page" option and create a new post.
Within the "Layout" tab, you can change the overall look of your site, Site Header, Footer, Sidebar etc.
Click on the "Themes" option to backup or change the theme of your site.
The "Settings" tab is the most important option on the Blogger dashboard. in this setting tab, you do all the works like changing your site name, change blog description, privacy, language setting, search preference setting, adding or removing users and many other important works related to your site.
Blogger dashboard main features
[Also read: How to Apply for Adsense and Get Approved Fast]
[If you set up your site well and follow some simple steps, then your website can be a great source of income. You can monetize your site using different ad systems or through affiliate marketing if the site is qualified for monetizing. The most popular and useful way to monetize your site is Google Adsense. It is a very reliable advertising program that is owned and operated by Google. It allows the site publisher to make money by showing different ads on their site. But it is hard for a new blogger to get an Adsense account approved by Google. Here is a simple step by step guide on how to prepare your site for Google Adsense and how to apply for Adsense and Get Approved quickly]
These are some basic steps to start your website on Blogger using the Blogspot domain name for free. You can create your blog or website on Blogger using these steps. Now you can write your posts after clicking on the "New Post" option located at the top of the Blogger dashboard. There are many other important steps to follow to make your website perfect. I will write some other important tips and guides on making a free website on Google Blogger in the next post. You can subscribe to this blog to get notifications in your inbox about how to create a free website on Blogspot Blogger by clicking here.