Believe it or not, but I got my Google Adsense approval within 3 days with just 10 posts on my 30 days old blog in my first attempt. Even it was difficult for me to believe it for the first time. Because getting a Google AdSense approval is not so easy for a blogger like me as I don't have any knowledge of blogging. However, I was successful in getting my AdSense account approval on my 30 days old blog having only 10 posts.
Like every new blogger, I also had also the dream of making a blog, writing a few posts, applying for AdSense, and finally making money after being approved by Google. But, there were some problems too. Such as, I am a newbie blogger, I have not any professional knowledge of blogging like a pro blogger, etc. Even I do not know the English Language properly. But, I have some practical experiences. Because I know what to do before applying for Google AdSense and what Google wants to have on your blog or website. So, in this post, I am going to share what I did before applying for AdSense and how my application get approved quickly?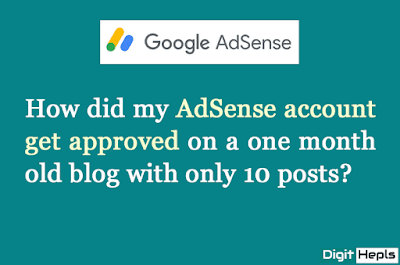 We all know that Google AdSense is the best advertising program that allows the publisher to monetize their blog or website and allows them to make some very good money. If a publisher or a website owner wants to monetize his site through Adsense, he needs to apply for an AdSense Account. Once his application is approved, he can monetize his site by showing Google ads on his site. But it is not so easy. There are so many bloggers, who are unable to qualify their sites for the AdSense Program due to the strict policy of Google AdSense. Even some people get frustrated and leave blogging when their applications are repeatedly rejected by Google. 
But still, getting approval for your AdSense account from Google is not so difficult. All you have to do is meet the Google AdSense program requirements.
What I've written in the title of this post is completely true. I started this blog on Google Blogger in the first week of January 2019 and registered the domain name on Google Domains on January 7, 2019. 
Domain Registration
On February 5, 2019, I applied for Google AdSense and my application got approved on February 8, 2019.
AdSense Approval Confirmation Mail
AdSense is conducted and operated by Google and Google has some very strict policies, rules, and requirements in case of approving an application to display ads on your site. Such as:
What Google wants on your site for AdSense:
They need original content on your site and a blog should have at least 10 or more well-written posts. 
Google likes the content of a site, which is created and designed to help site visitors.
It most hates any copyrighted content on your site. Such as any sentence, picture, video, or any other material that is created by others.
If a site or blog contains any content related to hacking, cracking, phishing, or if there are any harmful scripts or code in the site, then it will be rejected immediately.
Sites having any adult materials also get rejected.
According to the Ad Sense policy, in some countries like India, China, or some others, a blog should be at least six months old, to apply for AdSense,
Google AdSense requires a clean and well-designed site to show its ads
It needs a clearly described visitor privacy policy page and a terms & conditions page on your blog.
These are some basic policies that you have to follow before applying for Google AdSense and also need to maintain after getting approved by AdSense. I have already written a post describing these AdSense rules and terms which need to follow by a blogger who wants to apply for Google AdSense. You can see those rules and requirements and also see how to prepare your site before applying for AdSense here.
Tips and Tricks to Get Google Adsense Approval Fast:
If AdSense has so strict rules, then how could my 30 days old site get approved?
Because I know the tricks that need to be followed.
Till the approval of my AdSense application, I wrote 10 posts on my blog (Yes, only ten posts). All those posts are not so long. But, among the ten posts, probably five posts have 1200 to 1500 words each, and the other five posts have 700 to 1000 words each post.
My blog posts do not have any offensive or harmful content, abusive words, or content related to spamming. 
There are no copied contents and all the posts are written by my own. 

I've used some photos on my sites, but they are royalty-free photos taken from some sources like Pixabay, which provides copyright-free photos and these photos do not require attribution.
I also have the Privacy Policy page, Terms & Conditions page, an "About Section" on my blog. I've also added links to these pages in the footer section of my blog. 
As you can see, there are no unnecessary widgets, designs, and colors on the theme of my blog.
According to the AdSense policy, the only thing that my site has not complied with is the age of the domain. As I mentioned above, according to the policy, a website or a blog must be at least 6 months old to qualify for AdSense. But, it is not really necessary. The only thing required to qualify for AdSense is quality content. If your blog is more than 6 months old but does not have original and quality content or some brief posts, then your blog may not be approved by AdSense.

How to Create Different Ad Units on AdSense Account
The first purpose of writing this post is to show you and encourage you to have your AdSense account approved by Google easily. Just follow their Guidelines and publish some useful posts on your site so that your readers or visitor benefited from your blog and then apply for Google Adsense Program. All the best.