After getting approval for our AdSense Account from Google, we get excited to create different ads to insert on our blog or website. Because getting approval for an AdSense account for a new blogger is like a big achievement. Creating different AdSense ad units is not a big deal. But still, sometimes it is a bit difficult to understand the AdSense dashboard for a new blogger. Today in this step by step guide, I am going to show you how to generate an AdSense ad unit on your AdSense account and why it is necessary to create different types of ad units.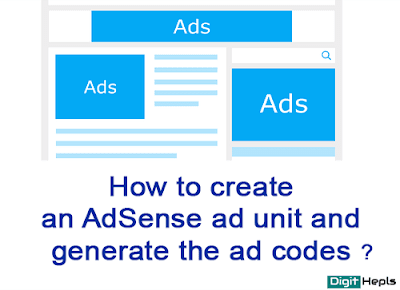 How to create

an AdSense ad unit
Before pursuing this topic, I'd like to explain the necessity of creating different ad units, differences between ad units, the process of naming ad units and benefits of creating different ad unit etc.
Nowadays, AdSense provides two types of ad placement method: Manual ads, and Auto Ads. Both auto and manual ads have different ad formats.
Difference between Manual and Auto Ads:
The main difference between Manual ads and Auto Ads is, the Auto Ads works automatically on a web page. You only need to insert a single ad unit in the head section of a web page and AdSense will start showing different types of ads automatically on that page. AdSense automatically determines the size of different ads and also determines the different areas to show the ads.
On the other hand, manual ad units are required to insert manually by the user. The user can place the ad codes where he wants to show the ads and what types of ads he wants to show.
Note that a user can use both auto ads and manual ads on a website at a time.
If you want to activate the auto ads on your site, then follow these simple steps:
2. Then click Ads in the AdSense dashboard.
3. Click "Auto Ads".
4. Then click "SETUP AUTO ADS".
AdSense Auto Ads
After clicking on "Setup Auto Ads", you will get some HTML codes in a pop-up window. Then copy the codes and paste it after or below the <head> tag or above the </head>. If you already have these same codes in the HEAD section of your site or page, then you don't need to paste code the again.
5. After inserting the codes, again go to the AdSense dashboard and click on the pencil icon just below the "Setup Auto Ads" option. In the next window, activate all four in-page ad formats and click save.
In-page ads
Now you have successfully activated the AdSense auto ads.
Manual Ads:
The main purpose of this post is to show you how to create different AdSense ad units manually. According to my experience, manual ads are more profitable than the auto ads for blogs and small website. Because manual ads are always in your control and you can change the ad style, size or placement at any time.

There are four types of ads available:
The "Text and display ads" offers you to create varieties of ad formats such as Horizontal banner, Vertical banner, Rectangular, Responsive ad, Custom Size, and Links ads.
AdSense ad sizes
Purpose of creating different ad formats:
Let's see the purpose of creating different ad formats. You can show different ad formats on the different place of a web page, such as in the header section, below post title, in the sidebar, in the middle of a post or in the footer section. But you can not show ads for all sizes in all areas. For example, you cannot add a wide horizontal banner (like 790 x 250, 728 x 90), in the sidebar. Because most sidebars are not enough wide to show a wide horizontal advertise. Therefore, rectangular and vertical ad formats are the best ad size for sidebars. On the other hand, vertical ads are not suitable for showing in the header area.
Naming the ad units:
When you create ad units, the first thing you have to do is choose and write a name for the ad unit. You can type anything like xyz to naming an ad unit, but write a proper ad name will help you categorize your ads, help you to remember exactly where you need to place different ad units,

help you to track exactly which ad area or which website (if you are maintaining multiple blogs or sites) is performing better and which ad area is getting the most clicks etc.
To remember different ad units, you can include the three parts in the ad unit name:
Website name (On which you want to place the ad)
The place (On which area of the site you want to show the ad), and
Size or type of the ad (Specify whether it is horizontal or vertical and what is its size).
For example: If I have to create a rectangular ad unit to show it in the sidebar of my blog, I will name my the ad unit as

follows

: "DigitHelps-Sidebar-300×250"
Let's go and create an ad unit on the AdSense dashboard:
First, go to www.adsense.com
Click Ads below the Home tab on the AdSense dashboard.
Click Ad units and then
Click +New ad unit.
Creating AdSense Ad
After clicking the "+New ad unit", select "Text and display ads" on the next screen.

On the next window, first, you have to type the name of the ad unit. You can type the name of the ad as per the method shown above, or you can write as per your requirement.

Then select an ad format by clicking on small up-down arrows next to the "Recommended" and select an ad format from the dropdown list. There are 7 types of ad formats available. You can choose a format as required an select the ad size.



AdSense Dashboard
After selecting an ad format, now you can select the ad type. There are Three types of ad available:

Text and Display ads: This ad format displays both graphical and textual advertisements and also the recommended ad format.

Display Ads only: This type of ad displays only graphical ads like images or other rich media formats.

Text ads only: Displays only textual ads.



Select ad type
Right below the ad type, there are three other options. Text ad style, Custom channel and If no ads available. It is not mandatory to change any of these options. You can leave it as default and you can change it later if necessary.

Text ad style: Under this tab, you can choose a pre-defined ad style or create your own style such as change the color of ad link and text, change the background color of ad, change ad border color etc.

Custom channel: Using Custom channel, you can create groups of different ad units to tracking AdSense ad performance of different ads and location of ads on a page.

If no ads available: Sometimes, Google AdSense unable to show advertisement on all the ad locations. In that case, AdSense asks you if any targeted ads are not available, then what action should be taken on that ad placement? Here you can choose any one of the following options:
What to do if no ads available


Now we have reached the last stage of creating our ad. After setting all the options properly, you can finally create an ad unit and generate the ad codes just by clicking "Save and get code"
After clicking "Save and get code", the ad unit codes will be generated on a new window. Now copy the HTML codes and paste it in a text editor like Notepad and close the window. Now save the text editor having the ad codes, so that you can implement the ad codes on your site at any time without opening your AdSense account.



AdSense HTML ad codes