Blogger a free blog hosting and publishing service and one of the easiest ways to starting your blogging career. Even it has a simple interface, but still, sometimes it is difficult to find different settings on the Blogger dashboard. Especially for the new the bloggers.
If you want to permanently
delete a blog created on Google Blogger and unable to find the delete option,
here are some easy and simple steps to delete a Blogger blog within 5 minutes or less.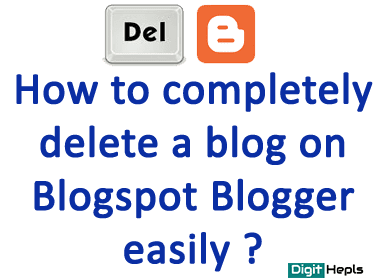 How to delete a Blogger Blog

The Google operated Blogger gives you the freedom to create 100 free blogs on Blogger against one Gmail address. Since Blogger is a free platform, any person who has a Gmail address can start a blog here. There may be various reasons for deleting a blog. If someone has created a blog for an experimental purpose, then he would like to delete the blog after the trial. If you have completely messed up your blog and there is no way to fix it, then you can think of permanently deleting your blog. Whatever the reason, if you want to delete your Blogger blog completely, here is the simple solution.

Please note that deleting your blog will also delete all the blog posts and pages.


Let's see how to delete a blogger blog completely:
First, go to blogger.com and log in to Blogger using your Gmail ID. If you have many blogs on Blogger, you will see the last edited blog in the Blogger Dashboard after login. Now you need to find and select the blog you want to delete. To find a blog, click the small drop-down arrow button next to the blog name and select the blog from the drop-down list. (See the image).


How to delete a Blogger Blog
Now click on the Settings tab, located at the left side of Blogger Dashboard and then click Others. Now click on "Delete blog"



Blogger Other Settings window
After clicking the Delete blog, you will see a pop-up window, which will ask for your confirmation whether you want to delete the blog or not. Also, here you can download the blog before deleting by clicking Download Blog. Now click on "Delete this blog" to remove your blog completely. Your blog will be completely removed from Blogger after 90 days of removal. Within this 90 days, you can restore your deleted Blog.



Delete a Blog from Blogspot Bogger
How to restore a deleted blog on Blogger:
As you can see in the image above, you can restore or undelete your blog on Blogger within 90 days of removal. If you want to restore your deleted blog, just follow the first steps to find your blog. You will see your recently deleted blog at the bottom of the list. Click the blog you want to restore and then choose UNDELETE. Your blog will be restored immediately.
Restore your deleted blog on Blogger
There are many simple but important things to learn about Blogger for a newbie.
Subscribe to this blog to get the email notification about the new Blogger tutorial.