If your site is ready to apply for a Google AdSense account, here is the step by step guide for the beginners who want to monetize their website or blog through Google Adsense.
I have already written a post about
how to set up your site before applying to Adsense
and get approved by Google quickly. Google Adsense is one of the most trusted
CPC (cost-per-click) advertising programs amongst the publishers that allows them to put and show ads
to earn a decent income from their site. It
the most effective way to monetize your blog too.
If you have a blog or website and have some long, informative and genuine posts on it then you can apply for an Adsense account to monetize your site. Let's see the step by step procedure to create a Google Adsense account. This guide is applicable for both Blogger and WordPress sites.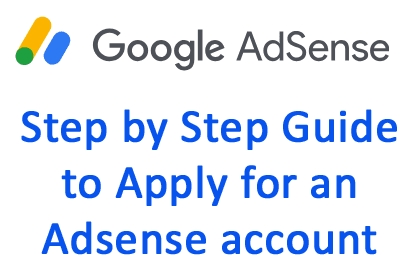 Apply for an AdSense Account: step by step
Before proceeding, you can check the basic requirements here before applying on Google Adsense.

How to apply and create an account on Adsense:
First of all, you need an email address.
Having a custom email ID (for ex: [email protected]) is better than a general mail ID like [email protected] After approving your account, you can add your primary mail ID on Adsense.
**
Make sure that you can access the inbox of your custom email ID. If you are using Google Domains, then you need to forward your emails to your primary Gmail ID.
Now go to Google Adsense sign up page and click "SIGN UP NOW" and fill up the account sign up form as follows:
Your Website:
In the first box, type your blog or website address without "https://" part.
Your email address:
Type your email address here. Then click on Yes button and then click "Save and Continue" (As shown in the picture below)
Google Adsense SignUp form
After clicking "Save and Continue" option, a new window will appear where you have to type your name and a password to create a Google Account for your custom mail ID and click Next (see below image). Note that if you are applying for Adsense using your Gmail address, you will probably not see this window.
Adsense account creation steps
After completion of the above step, click next and then select your country or territory on the next page and read the Adsense Terms of Service and then click on the checkbox to accept the agreement and then click Create Account (see the image below)
Adsense agreement page
After completion of the above steps, your Adsense account is almost ready and now you have to connect your site to your Adsense account by inserting some code on your website. As shown in the image below, you will see a window after creating your account and where AdSense will provide some script or code. Now copy the code and add it to your website.
If you are using a Blogger site, go to Blogger dashboard and click Theme and then click Edit HTML, search for the

<head>

tag and paste the copied AdSense codes just below the <head> tag and save theme. And for websites created on WordPress.org, go to the Admin dashboard and then click Appearance, then click Editor. On the theme editor window, click on the Theme Header (header.php). Now find the

<head>

tag and paste the Adsense verification code just below the <head> tag and save the changes.
Now go the AdSense tab after adding the codes to your site and click the two checkboxes below the AdSense codes and then click "Done".
Connect site to AdSense
---
[Must read]
---
After completing the above steps, your site is ready for review by the Google AdSense team. After reviewing your site, they will email you whether your site has been approved or not. If your site gets approved by AdSense,
you will receive an approval email and then you can add different ad code to your site and if not, they will email you the reason behind the disapproval. Therefore, do not be disappointed for rejection and read the email carefully to find out the reason for the disapproval and then try to correct your mistakes and apply again after a few days. Good luck.