The "Label" is a known word to all the bloggers or the people who connected to blogging and Google Blogger. Most of the professional bloggers know the exact use of "label" in their blogs. However, new bloggers who do not have much experience in blogging, they sometimes get confused about the use of "labels" on their blogs.

In this post, we are going to discuss the use of labels in Blogger correctly and how to create/add a label to Blogger posts, and I will also show you the process of deleting a label from a blog post.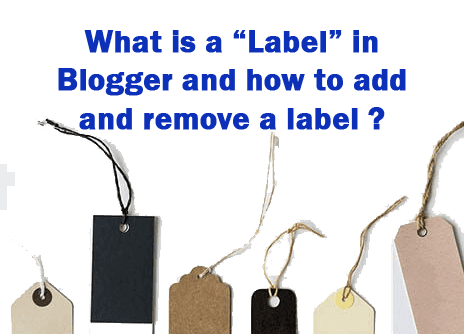 Blogger Label

Use of labels in Blogger
The main purpose of adding labels is to categories the blog posts according to their type and nature. A label describes the subject of a blog post and it helps the users or the visitors to know what the post is about.
For example, there are several posts on this site that I have written to help new bloggers. I have added two to three different labels on each post, such as "Blogger help", "Make Money Online", "Google Adsense" etc.
And a visitor can view all the post related to Google AdSense by simply clicking on the label "Google Adsense".
You can use any word as a label, but it is very important that the word should be related to the topic of your post. Suppose, if you are writing a post about computer software, then the label should be related to computer software, such as "PC software" or "Free Software" or "Offline Installer" etc. It should not be "Pets", "Black Dog" or "German Shepherd" etc.
Also, y
ou can use multiple labels on one post, but the label should also be correlated. And even it is possible, but do not use more than three labels per post.
Adding labels to a post is very important. The labels divide your blog post according to their category. When a user visits your blog to find any information on a topic, a label helps the user to find all other posts related to that particular topic. It increases the page views and also reduces the bounce rate of your blog.
Create a label in Blogger:
It is very easy to create and add one or multiple labels on a Blogger post.
Start a new post in Blogger or edit an existing post.
Now go to the right of the post editor and click on the Label option under the post settings option.
Now type the labels. If you want to use more than one label, then separate each label with a comma (,).
Adding Labels to Blogger post

Adding a label to multiple Blogger posts:

If you want to insert a label in multiple posts, then first go to Blogger dashboard and click the Post tab. Now click the checkboxes to the left of each post to select the posts in which you want to insert the label. Then click the label icon to the left of the publish button and select New Label… Now type the label name and click OK and your new label will be automatically added to the selected posts.

See the below image:



Adding a label to multiple posts
Remove a label in Blogger:

Some times, we need to remove some unnecessary labels from our blog. Using unnecessary labels or too many labels helps reduce page views. Removing a label from a particular one post is similar to creating a label. Just edit the post, click Labels, delete the label and click done and update the post.
But if you want to remove any label completely from all the posts, t
hen first go to Blogger dashboard and click
the
Post tab
. Now click the
All Lebel
option situated at the top right of the blog posts.
All Lebel Option
Now click on that label you want to remove. This will hide any posts from Blogger dashboard which don't have that particular label and only will show the posts that include that label or comes within that category which you want to remove. Now click the checkboxes to the left of each post to select the posts. Now click on the Label icon and click the particular label in the drop-down list you want to remove and the label will be removed instantly.
This is an article on the importance of Labels in Blogger. Here I have also written steps to add and remove labels from Blogger posts. Hope this article will help you solve label related problems and will be able to provide some guidance on adding and removing Blogger labels. If possible, write your Blogger label related problems in the comments section or here you can share your own experience too.